We FINALLY put our tree up today!
I love decorating for Christmas. David was not in the spirit this year, since we should be moving soon and we're not sure when the movers will come to pack us up. We agreed to do "low key", but I was under the impression that "low key" decorating still included a Christmas tree. We usually have four! Finally when I put a pile of wrapped presents where our tree usually goes, David caved in and agreed to get out the big tree.
There was just no way I could NOT put up decorations. Decorations have always been a big part of Christmas for me. My mom always puts out tons of decorations, and they really do get you in the Christmas spirit! I have fond memories of playing with the little Christmas candles and vintage houses at my grandma's house and she always leaves her tree up for my birthday...she promised to leave it up until I get home to see it, even if it's past my birthday this year! So, you see, the need to decorate for Christmas runs in my blood...I got started before Thanksgiving by putting up some little decorations around the house: (I figured that if we would have to take them all down early, I should get to put them up a little early too!)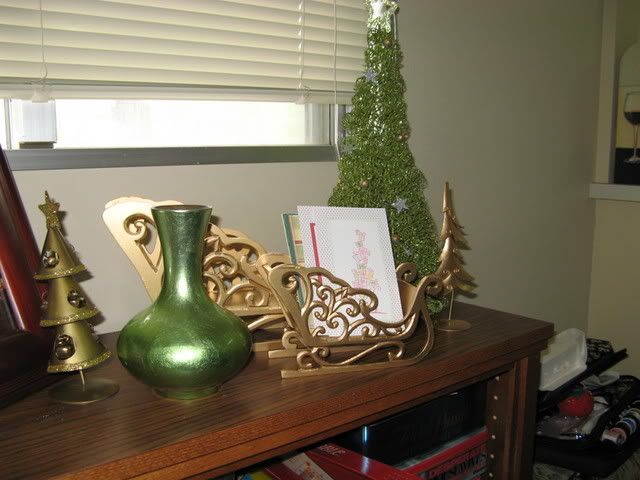 This picture is actually from last year, we haven't gotten any Christmas cards yet. But I arranged these green & gold decorations just about the same way.
I went to a PartyLite party at my friend's house and didn't feel like I really needed any candles. I did, however, need this sweet Kissing Clauses candle holder! Kissing Clauses and kissing angels have always been a part of my Christmas memories at my mom's house and I didn't have any of my own. But now I do!
My BX nutcrackers. I always gawk over the nutcrackers they get in from Germany at the gift shop here, but since they are usually $125 or more, I'm sticking with the cheapo BX variety. Maybe I'll buy a German nutcracker in Germany sometime. I think it would be easier to justify the $$.
This adorable little Santa is my newest Christmas decor purchase. I love him, don't you? This is Japanese or Okinawan style and I bought it at the gift shop here when I was looking for a present for someone else. I just couldn't help myself. He's so cute! The candle holder was a gift from a student last year.
Actually, these little star tea light holders were purchased at another gift shop where I stopped on my way home from the gift shop where I bought that little Santa. The Thanksgiving cards in the background are from my mom, Aunt Margie &
Cyndi
They're cute, and I have a huge bag of tea light candles to use up.
We crank up the Christmas music before we begin. (David had to mute the Alabama-Florida game during this time today). While David gets the tree out of the box and puts it all together, I lay out all of the ornaments on the table. Traditions are very important to me, so we must do this the same way every year. All ornaments get laid out and then I take a picture. It's fun to see how our collection has grown. We didn't do this our 1st Christmas here and that makes me sad, because that year we started out with 3 ornaments and 1 of them (a special glass wedding cake one from Aunt Margie) broke. Luckily I have a fairly photographic memory so I'll always remember it anyway. Anyway, we have three ornaments that must go up first, second and third. First on the tree is always the wedding bears from Stacy, Terry & Selena. And I insist that we think of them as we put the ornament up. Next is the Moby & Morgan ornament from my cousin Lisa. And we think of Moby, Morgan AND Lisa. Then the "Our First Christmas" from my old teacher-neighbor Ms. Jones. Then we put up the rest of the ornaments in any order. I always think about who gave the ornament to me or why it is special. I don't think David actually does this, but every once in a while I quiz him and say, "Do you know who gave us this ornament?" Sometimes he does know! So, when all the ornaments are up, the tree looks like this:
Our tree is skinny, and still not full of ornaments, but I love it. I think skinny suits it. Plus it was seven dollars, which I love to brag about. Even though I really do love my tree once all the ornaments are on, I love it the most when it's all lit up and beautiful!