Christmas day is coming to an end on this side of the world.
If you didn't get one in the mail: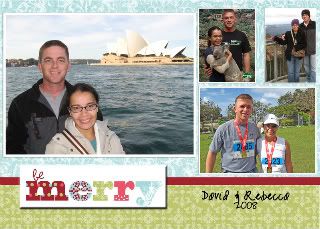 We had a pretty nice Christmas. I spent all day on the 24th baking, cooking, and dipping things in chocolate. Then we had appetizers (tomato-basil-goat cheese dip without the goat cheese because the commissary didn't have any, veggie pizza, cheese & crackers and mixed nuts), dinner (Christmas Pasta and salad) and dessert (more on the treat plate tomorrow). The guests played Rock Band and I snuck out for a night run around 9:30. While I was running, I realized that even though I've been so looking forward to leaving this island, I'm going to miss feeling warm enough and safe enough to go out running by myself at 10pm! I ran 6 miles looking at Christmas lights and listening to people having their Christmas parties in their backyards. When I came home, the guests were gone and David was cleaning up. I helped, prepared a breakfast casserole and took a shower. Then we opened presents. (Well, the ones that we hadn't already opened...we get kind of antsy!) While we were sleeping, Santa came and this morning we got to see what he brought for us. We had a late breakfast (blueberry stuffed french toast and sausage hashbrown casserole) and then went to our neighbors house for dinner. I had forgotten about the frozen tamales & pierogi I had picked up for Christmas Day dinner, so we'll have to have those tomorrow instead. The most ridiculous thing at dinner was when this lady took a bite of the veggie pizza leftovers I had taken over there and acted like she was dying because she ate a pepper. She was coughing and going nuts like it was spicy and I informed her that it was a SWEET PEPPER. Lame. We stayed there for a few hours more and then came home to relax!