I finally remembered to take pictures for
12 of 12
! Warning, these pictures are not well-composed and the subject matter is incredibly boring! All photos were taken in my house, Thetford, England.
1. 0700, Living Room
I slept on the couch last night because I was too cold to get out from under my blankets and go upstairs. So I woke up all cuddly and warm under the big mink blanket. We own 4 of these babies... anyone who's been stationed in Korea probably has at least 1. I think I need one more, and luckily a friend of mine is stationed in Korea until March... I think I'll send her a check and a box of cookies and request another blanket.
2. 0715, Hallway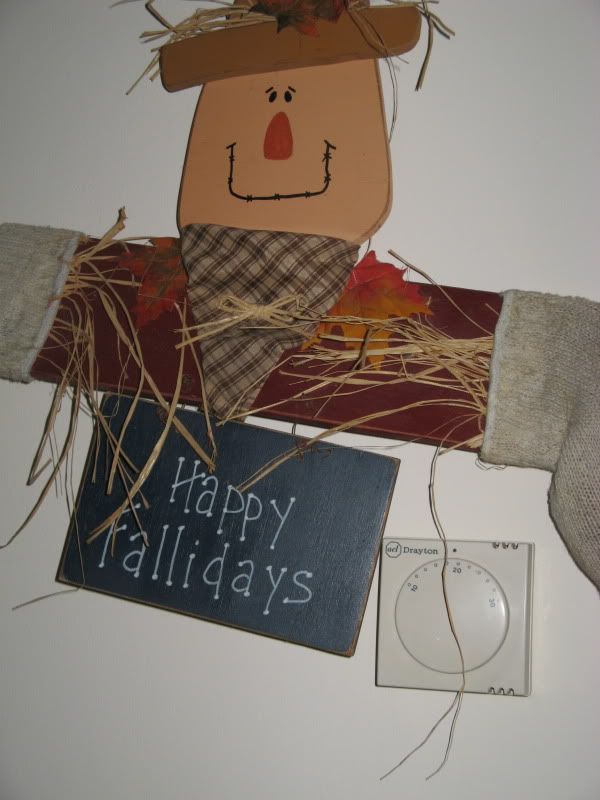 I was really really trying to make it until October 15 to turn on the heat, but I broke down today and turned it on. In fact, I was trying to make it until October 31 originally, but modified that plan in the past week when I had to knit myself a hat to keep warm indoors. I thought that a girl was going to meet me here and go running with me, so I turned the heat on "for her" so she wouldn't be freezing when we came in after our run. She ended up not coming, but I sure was happy to walk into a warm-ish house after my run!
3. 0800, Kitchen
My pre-run breakfast, peanut butter toast. I like to eat the crust first. I questioned my decision to eat so close to my run time (I should've been eating while I was running around the house closing all the radiators & doors in rooms I don't use!) but I was fine.
4. 0815, Hallway
These are my newest running shoes, Asics Gel DS-14. The only thing I don't like about them is that they are being discontinued. Headed out for my 2 mile run to my friend's house, then we did a 5 mile run/walk, and I ran the last 2 miles back home.
5. 11:30, Living Room
My post-run breakfast, Frankenberry. I have a certain way of eating this, too... crunchy parts first, marshmallows last. I eat the white marshmallows first, then the blue ones, then pink, and finish off with purple. It takes me much longer to eat this way, so I usually don't eat marshmallow cereals when I'm in the presence of others.
6. 1530, Kitchen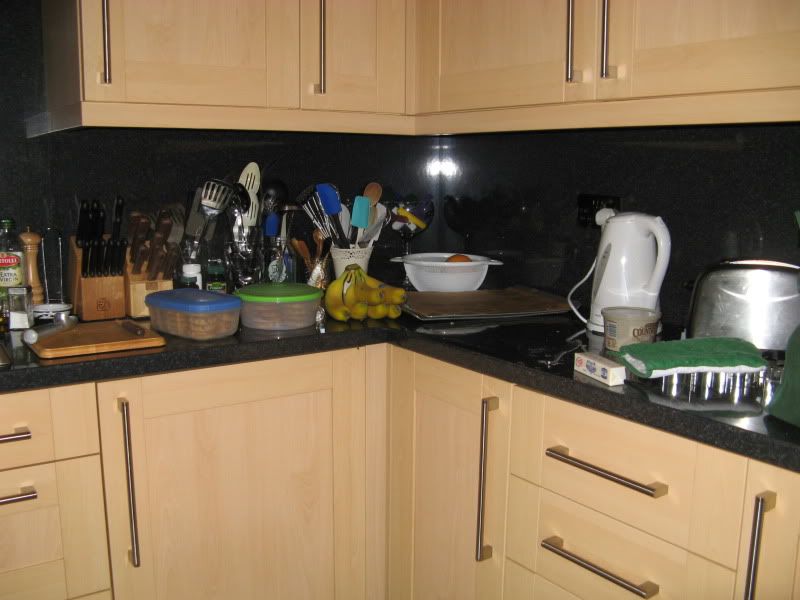 I cleared a little bit of space on my counter so I would have room to make cookies. Originally, I was planning this to be a sort of "before and after" picture, because I had big plans to clean up the kitchen after baking cookies. But baking cookies takes a long time and plans change. So, to get an idea of the "after" picture, just add a few dirty dishes and splatters of ingredients.
7. 1531, Kitchen
I realized shortly after getting all excited about new cookies that my mixing bowls and measuring cups (along with lots of other dishes) were dirty. So I had to take a brief break from cookie making before I even started in order to wash the dishes. Having clean dishes made me feel like much less of a slob, plus it gave my butter time to soften.
8. 1615, Kitchen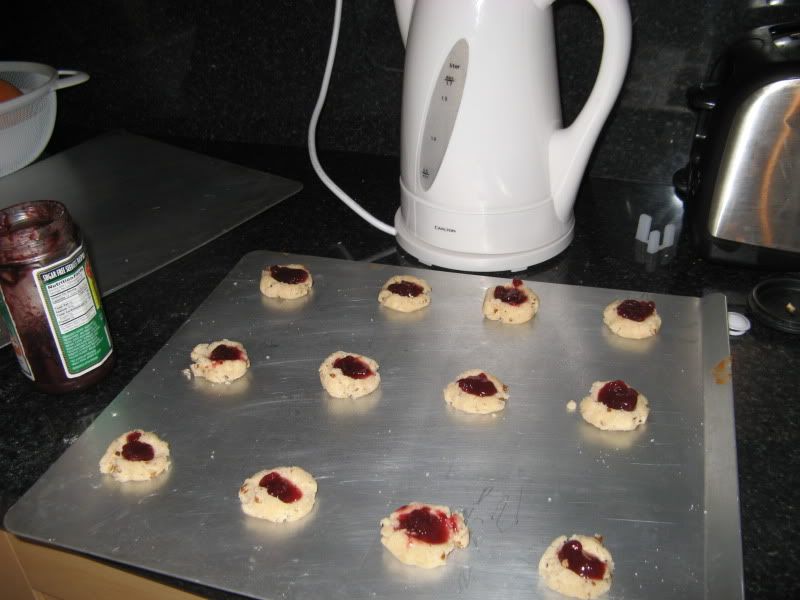 My first batch of cookies (raspberry thumbprints) ready to go into the oven. I could've just repeated this picture 3 more times over the next 45 minutes, but the last one would've had slightly different color jam as I ran out of raspberry preserves and had to use strawberry.
9. 1950, Living Room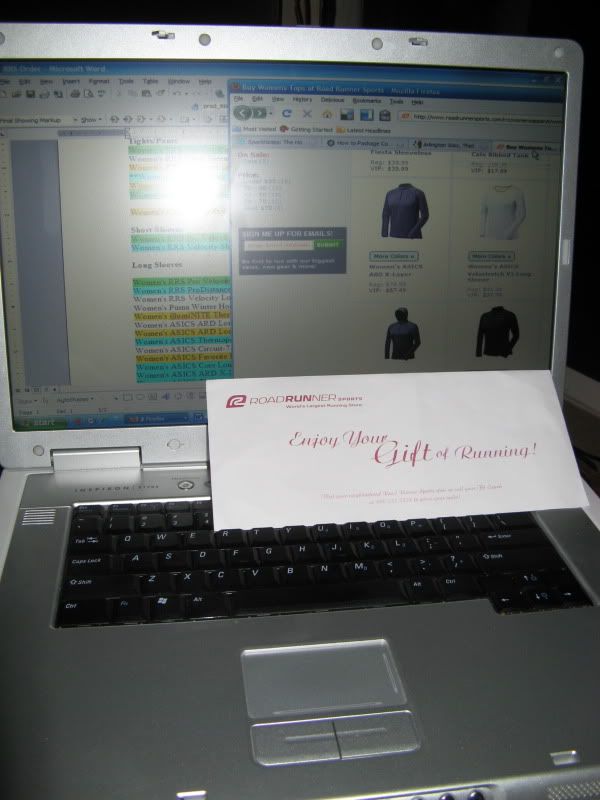 I'm so glad one of my friends stopped by recently and set up my wireless internet for me. I was able to browse Road Runner Sports for several hours from the comfort of my couch while deciding what to purchase with a gift certificate I got last year. Time for winter running clothes. Unfortunately, the gift certificate was not for $1,684.46, which was the total of all of the items on my list. Spent a considerable (and excruciating) amount of time paring down.
10. 2215, Living Room
Back to the position I started out in this morning, on the couch, under the mink blanket (my heat is on a timer and it was off by this time!) Turned on Gossip Girl (much later than I wanted to, due to the running clothes decision-making fiasco) and started on the last half of my fingerless mitts.
11. 2345, Living Room
The pair is complete!
12. 2350, Living Room
I didn't actually mean for this to be a 12 of 12 picture, but I miscounted somewhere during the day, so now it is. My mitts and hat are done...and I think I will put them on and leave the house tomorrow (today now that I'm writing this).