Yeah right. I wish that was all there was on my pre-Dublin to-do list. The rest wouldn't fit on the post-it. What the heck did I do all day???
Even though it's not Tuesday, I had some time to waste, so I figured I'd participate late. Or early. You know, instead of doing the things I need to do. Makes perfect sense.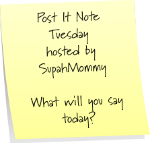 Find out more about Post-It Note Tuesday
here
.
Or, if you just want to make your own Post-It, go
here
.