Shoes!
My mom said to limit the number of shoes I pack in my suitcase since they take up more room....and I limited it quite by accident: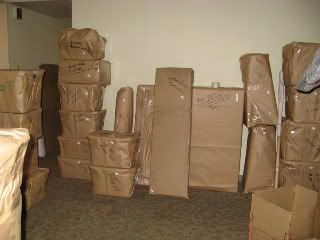 They're all in there somewhere. Or maybe in one of the many many other boxes that look just like these.
I do have 3 pairs of running shoes... the ones that are old and I just walk around in them (will wear those on the plane), my newest ones that I currently wear, and a pair that's not new anymore but not new yet either which I decided to bring in case it is still snowy and my shoes get wet. I also have a pair of flip flops, but something tells me I won't be using those very much.
I couldn't resist buying myself a little welcome home present...some cute blue shoes!
Black, White & Blue
- by
BeccaAgain
on
Polyvore.com
Black & Blue
- by
BeccaAgain
on
Polyvore.com