Our trip to Australia was the first time we've ever been on vacation together for more than a week. Actually, it was probably the first time we've ever been on vacation together for more than 4 days. And we learned something very important on Day 7 of our trip. Seven days is our limit. After spending 7 days together, we almost came to blows sometime between leaving the Observer Hotel's restaurant and arriving at our hotel around the corner. Even though my beef burgundy pie was good, I was still a little bit irritated from earlier when David had been talking about eating dinner at Phillip's Foote, a restaurant right next to our hotel where you throw your own steak on the "barbie", and then when we went in, he decided he didn't actually want to eat there after all and we walked out, without eating and without a plan. I was irritated that David liked walking up this dumb little alleyway *every*time we went back to our hotel. And the fact that this little walkway passed right by Phillip's Foote brought the previous irritation all flooding back. Besides, I liked walking another way back to our hotel. David was irritated that I could possibly be irritated by monotony and it irritated me that he didn't understand me.
So, on Day 8, neither of us were particularly sad to bid each other farewell and go our separate ways for the day.
David woke up before me, and probably before his alarm clock too, and went...where else? The golf course. He went to Moore Park Golf Course and finally the sun cooperated (it probably didn't want to witness the fallout that would've occurred if we would've had to spend another full day together) and David's Australia golf dream finally came true. I don't know that much about David's day at the golf course, except that he golfed with some Korean guys who weren't as good as he was and that he had good conversation with his cab driver. He rented clubs and walked the course instead of getting a cart.
I slept in a little, but not too much, and got ready to find Tapestry Craft. I was so excited. I wore my Ophelia sweater cardigan vest thingy because I wanted to wear a handknit to the knitting store! Too bad I had to wear a coat so nobody saw my Ophelia anyway.
My journey to Tapestry Craft was interesting. Especially the part where I was going in the wrong direction. I don't know if it's just how it is in Australia or what, but I left my hotel at about 9:30 (Tapestry Craft opens at 10) and tons of business people were out walking. To work, I presume. I thought that was pretty late to start work. Well anyway, I walked the right direction for about 3 blocks, from Harrington Street (where my Hotel is) to Grosvenor Street. Then I turned left and walked in the wrong direction for about 9 blocks. Around the 7th or 8th block, I started to think it was kind of odd that I should be walking so long, because David had looked up the street at the internet cafe and said it was really close. But I still walked one or two more blocks before I decided to turn around. But I didn't want to just turn around in the middle of the sidewalk and look like a lost and confused tourist, so I walked all the way around a block instead. Walking is good for you anyway.
So, 20 blocks later, I was back at the intersection of Harrington and Grosvenor, just 3 blocks away from the hotel! I walked straight up Grosvenor, the direction I would've gone had I turned right, and after crossing one street, there was York Street. The whole time the dumb street had been right there! I don't know why I struggle so much with directions. I'm actually quite good once I've been somewhere at remembering landmarks, like "We turned right when we were facing the side of the building with the round window." I even sometimes get lost on my way home from work. I go there every day! You can ask my mom, I'm the original Miss Navigation. As in Misnavigation.
To add to my troubles, York Street is really strange. I didn't notice this about other streets in Sydney, but maybe that was because I wasn't actually looking for other addresses. I was looking for 50 York Street, and I looked at the building on the opposite side of the road and saw that the number was 75 York Street. I figured I must be close. So I walked a little further and checked the address on a building on my side of the street. 18 York Street. What? How did I get from 75 to 18? I'm pretty sure *normal* streets are numbered like this: 5432 (my address when I was 7 years old) would be across from 5431 or 5433, not 5501. I almost turned around to go see where I missed 50 York Street, but all that I had passed was a grassy yard thing and a sandwich stand. So I kept on walking... for a really long time. And then I saw it: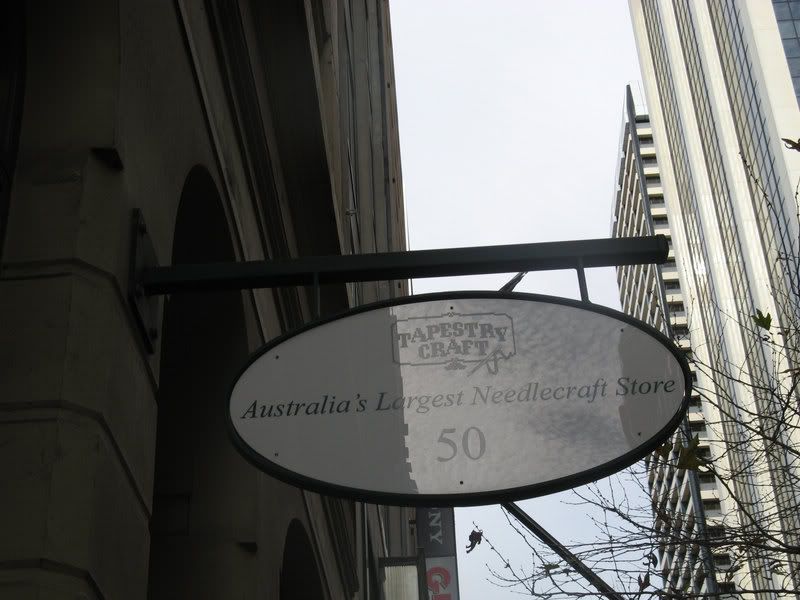 My picture isn't great, but if you can get past the reflection of the cars, isn't that a cozy window display? I had heard about Tapestry Craft on Ravelry and on a podcast I listen to, so I knew I'd find some decent yarn there. I had no idea how much!
I was there for...a really long time. Upstairs, they had so much cross-stitch stuff. There was even one on display that was the same that my cousin Angela made. It took me about 10-12 minutes to convince myself that I did not need a cross-stitch pattern of an ABC wall hanging with Australian animals, and that I probably could get by with a photo of the Opera House instead of cross-stitching one.
I walked downstairs and saw more yarn than I've ever seen:
I'm almost certain I thought of some projects to get yarn for before I went to Tapestry Craft. But when I was actually there, with all that yarn, I couldn't even remember one project! I walked around the store aimlessly for a little while, touching lots of yarn and samples. Then, I got out my notebook. I cannot travel without one of those little pocket notebooks! And I started writing down information about all of the yarn I was considering. I only considered yarn that was made in Australia. They had lots of Debbie Bliss and Noro, etc. but Aussie-only seemed to be a good way to impose some self-control. Then came the task of figuring out how to convert 10 ply, 12 ply, etc. into Worsted, DK, Bulky, etc. I still had no idea what to do about actually buying yarn. I was too overwhelmed. So, after an hour and a half in Tapestry Craft, I left. With nothing.
But I went back later.
Oh wait, actually, I take that back. I did leave (after I paid for them) with 4 balls of Aussie-made yarn, Cleckheaton Country 8 ply for the only project I did have specifications for--because it was in the knitting book I bought on our first night in Sydney. I walked back to my hotel (and it took a whole lot less time than it took getting there!) and instead of going in the hotel, I went to the internet cafe across the street. And I went to Ravelry. And for 20 minutes (that's what 2 dollars would get me), I looked up all of the projects in my queue or favorites that I could make with the fiber & weight of yarn that I had written down in my notebook. I wrote down those projects in my notebook, dropped my bag of yarn back at HRH, then walked back to Tapestry Craft, taking all the right turns this time around!
Another hour in Tapestry Craft later, I bought a sweater's worth of yarn to make the Zephyr Girls Juliet and I bought some bulkier yarn to make the Hannah's Mittenscarf.
When I got back to Harbour Rocks, David was there. I told him I was starving and asked if he wanted to go for lunch and he said he had already eaten! He claims that he got there about 10-15 minutes after I left the 2nd time, waited for me for a "long time" and then went to eat. He ate penne arrabbiata and garlic bread at Zia Pina's. The same restaurant that we ate our first lunch in Sydney at. If we hadn't spent the morning doing our own thing, that probably really would've irritated me, but absence makes the heart grow fonder, so I was a little more tolerant. He decided to come with me to a cheap little restaurant I'd been wanting to go to, the G'Day Cafe, where I had fish & chips and David had a second lunch. Or maybe it was just a side of chips. But still...who eats 2 lunches?
David went back up to the hotel while I went to the button shop, Button Button. This was one of my favorite places. It was in the little row of shops on the Nurse's Walk, right behind our hotel.
Have you ever seen so many buttons??? It was really neat! All of the like buttons are in tubes with a sample button attached to the top, then they're arranged by color. There were all kinds of buttons! Old buttons, new buttons, huge buttons, tiny buttons, buttons shaped like airplanes and kangaroos, etc. So many buttons! I bought some buttons for the project from the Australian knitting book, and decided to go back later (and bring the yarn) for the buttons for the Juliet and for my February Lady Sweater--that was a challenge, because the yarn hadn't arrived and I couldn't actually remember what color I bought.
Then I went back to the hotel and hung out watching tv with David until we got ready to go out for dinner.