So, whoever picked our Gold Coast hotel (*cough*David*cough*) needs to take hotel-picking lessons from the person who picked our Sydney hotel (*cough*ME*cough*)! Our biggest gripe about our time in Gold Coast was the location of the hotel. In Sydney, though, I could not get over how perfectly located our hotel was! We stayed in an area of Sydney called The Rocks, which is really historic, lots of old buildings which were going to be torn down in the 70s but were saved by really persistent (and smart!) people. I really like historic buildings, so the Rocks was right up my alley! Our hotel was built in 1890-something, and it was love at first sight for me. I loved the building even before I learned the merits of its location.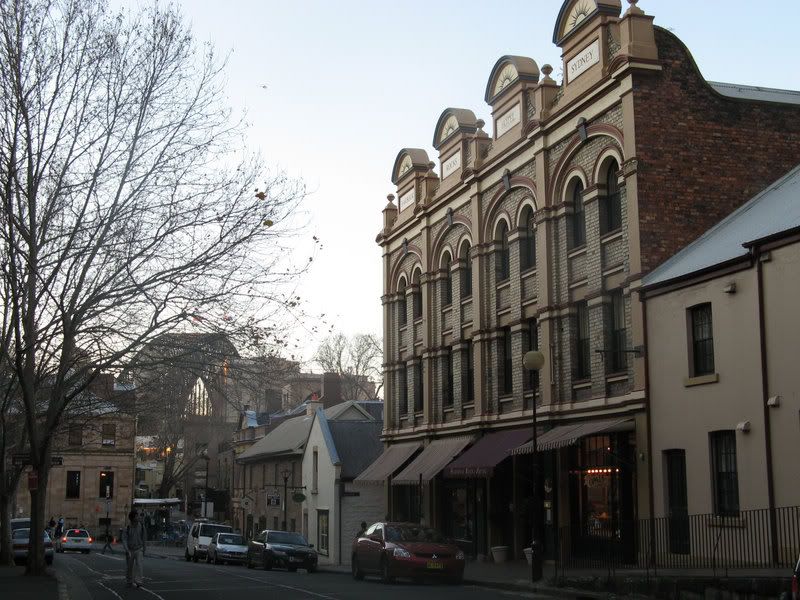 If you're ever going to Sydney and you don't mind climbing stairs (no elevators in 1890 I guess), I highly recommend the
Harbour Rocks Hotel
. If you do mind climbing stairs, there's a Four Seasons right up the street, and they do have an elevator.
We arrived in Sydney in the early afternoon and bought "return" tickets (that's Australian for round-trip) for the airport shuttle--$44 for the both of us--which was a welcome relief after paying more than $120 for the round trip in Gold Coast! We were the last to get dropped off, so we got to see some of the other hotels and neighborhoods in the area along the way.
Our marathon legs were still a little wobbly on our way up the stairs (2nd floor, which is Australian for 3rd floor) and we were thankful that we had decided to spend another day in Gold Coast rather than heading to Sydney the day after the marathon. We did a lot of walking the day after the marathon, but we might have burst into tears at the idea of climbing the stairs to our hotel room!
David started asking right away about golfing...he had tried one last time at Royal Pines the morning we left...and it was raining! So I sat down and enjoyed my 2nd favorite feature of our hotel...the Australia/Sydney travel books they had on a bookshelf in the lobby! I read about a few restaurants and wrote them down in my little notebook. Lots of restaurants were right around our hotel. Great location, once again! Once David got his tee-time set (Thursday morning), we walked out to eat. I wanted to go to the G'Day Cafe, but I mentioned Zia Pina's pizza and pasta place and David really wanted that. So we went there. Zia Pina and her family really are Italian so it was fun to order my pizza in Italian! It was real Italian pizza...so so good and we haven't had any in so so long! I loved the great little building- brick walls all over and we got a cozy table close to the wood burning pizza stove!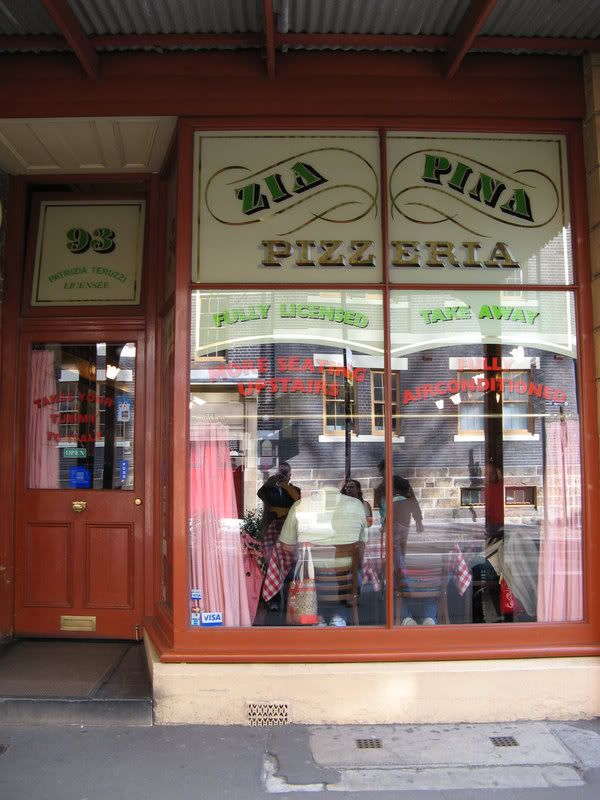 Once we were full of artichoke pizza and fettuccine buscaiola, we felt ready to head out and see Sydney. The girl at the front desk gave us walking directions to the Pylon lookout and we were surprised (even though we could see the Harbour Bridge from the front of the hotel) at how close it was. We walked up one set of steps and tada...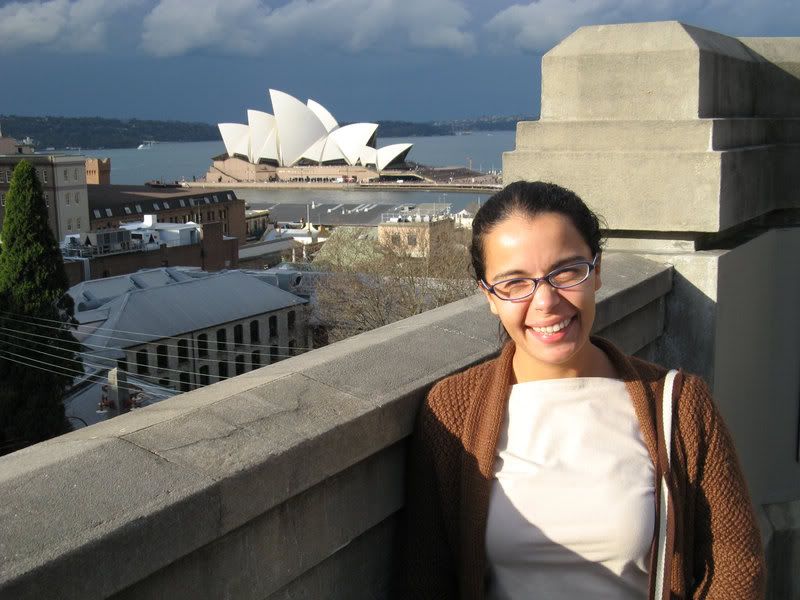 There it was!
We headed over to the 87th Pylon (at least I think it's called the 87th Pylon?) and guess what...that doesn't have an elevator either! 200 steps! It hurt more coming down than going up!
On the way up, there were a few breaks where you could read about the conception, engineering, and construction of the Harbour Bridge. I was really intrigued by everything about it. It's amazing that people designed and built all that--without computers, without billions of dollars, and without safety harnesses! It was built in the 20s & 30s (I think it was finished in 1932) and I can't even imagine being a part of building this big amazing bridge that people come from all over the place to see (well, I think more people come to see the Opera House, but once I read about the bridge, I decided that it's so much cooler than the Opera House!) and so many people drive, run, or take the train across every single day. We learned that 16 people died while they were working on the bridge (but, if I remember correctly, only 2 fell), and one guy fell and survived...and got a gold watch. And the bridge was built from each side and met in the middle and there were big giant cables holding the sides of the bridge up while they worked toward the center. Because the bridge is steel, it grows and shrinks a couple of millimeters depending on the weather and they have gigantic hinges to allow that movement. The whole thing is just really neat. And amazing! Oh, and the pylons actually don't serve any purpose except that someone thought they'd be prettier to look at than the steel frame.
After looking around outside and taking "some" pictures of the Opera House (we have quite a collection!) we headed back down. On the way down, we got to stop in a "theater" and watch a movie that showed some more of the history of the bridge.
Then we walked back toward our hotel, to Circular Quay, and... the Opera House!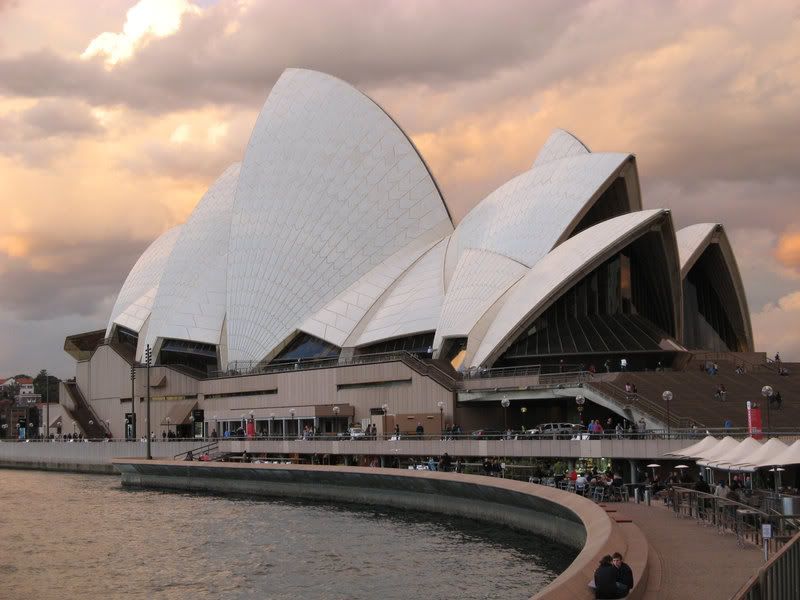 Our first afternoon in Sydney was the best...not a lot of crowds, and pretty good (but a little cold!) weather. We spent some time looking at (and touching) the Opera House.
(Do you recognize my sweater? It's the Minimalist Cardigan I made myself for my birthday...and it has touched the Opera House too!)
We made sure to get some pictures of the Harbour Bridge too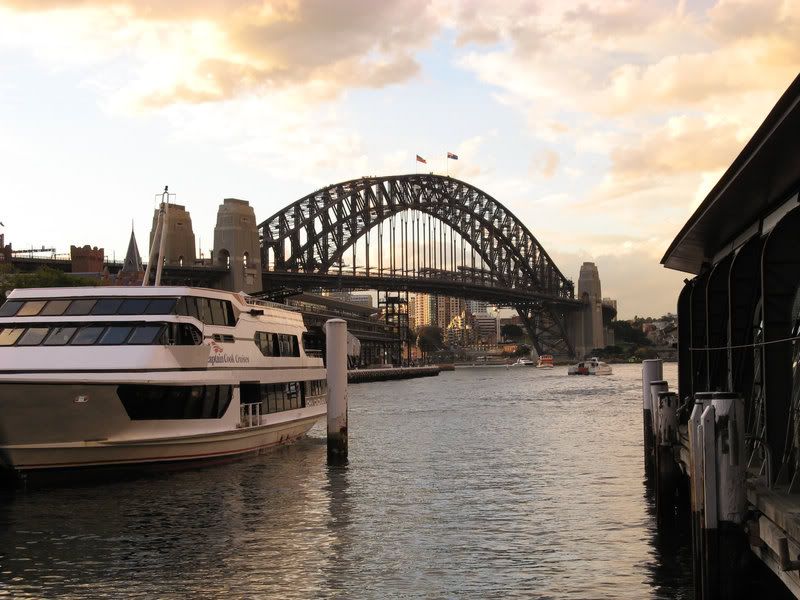 We headed back to our hotel, and took this picture from just one block behind our hotel--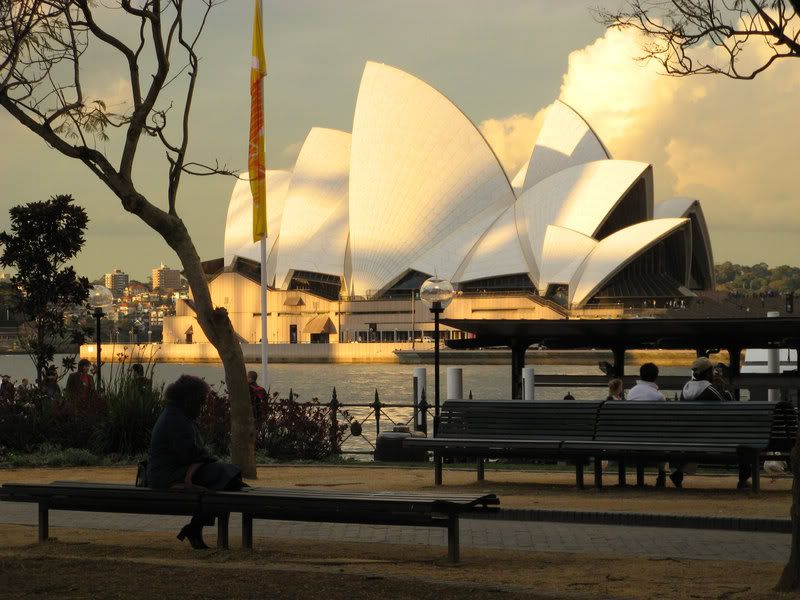 We rested for a little while and got ready for dinner. We went to Lowenbrau Keller, which was right around the corner from us and had some yummy German food and beer. I loved the inside of that building too! After dinner (or before... I'm not exactly sure) we did some window shopping at the shops behind our hotel. There was a book shop there called Ariel and right inside was a knitting book I had been looking for! I heard about it on a podcast before we left, and since it's by an Australian gal, I really wanted to buy it there! It was a wonderful first day in Sydney...my favorite day of our trip!