On July 7, less than 24 hours after finishing the marathon, we were up and at 'em! We hopped back in a cab headed again for Nerang station. We bought day passes for the train and a copy of the Gold Coast Bulletin--marathon edition and waited at Platform 1 for the train to Brisbane. On the train, we met a girl who had also run the marathon! It took a little more than an hour to get to Brisbane, and then we transferred trains to head up to Beerwah. It was at least another hour before we transferred trains one more time, but then just a few minutes to the Beerwah station. At Beerwah, there was a big courtesy bus to take us to the Australia Zoo! There were also a LOT of steps. It was really slow, painful, and I'm sure odd-looking for the both of us to get down those steps. We got to the zoo just as it opened. The Australia Zoo is the Crocodile Hunter, Steve Irwin's zoo. Right when you enter, you see the Steve Irwin Tribute Statue, but really, the whole zoo is a tribute to him and his dream.
We looked for the Asian Otters, but they were out, and then we went straight for the food! The food court at the zoo has a really big selection...but David chose a chicken burger (I think) and I chose a "Bindi Burger" which was like meatloaf on a bun and very very tasty! Right after our brunch, we walked over to the Crocoseum and we were just in time for the snakes, birds & crocs show. After the birds cleared out, a big smoke machine brought in the next act... Mosman the croc and none other than Terri Irwin! David and I thought that was pretty cool! Like we were seeing a real star!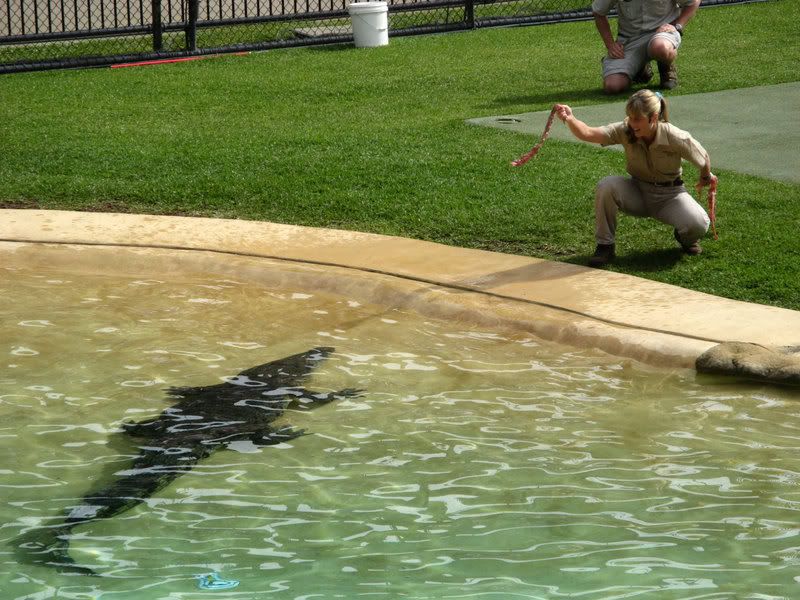 She was entertaining and funny, and the croc was huge and creepy. She said that Steve had named him Mosman because he had gotten him out of Mosman Bay (which we saw on the ferry map later in Sydney!) after he had become a problem croc--he ate someone's dog. Anyway, the show was neat and afterward we looked at even more crocs out behind the Crocoseum, then headed for the other sweeter animals, like the kangaroos!
We bought 4 bags of kangaroo food (and ended up giving 3 away, because a lot of the kangaroos weren't even that hungry). It was really weird to be just walking around with free-roaming kangaroos. Some were hopping around, but most were just laying around being lazy. They were really gentle when you fed them, and they like to be pet just like a big hopping cat! David tried feeding a croc and found that they are not so gentle: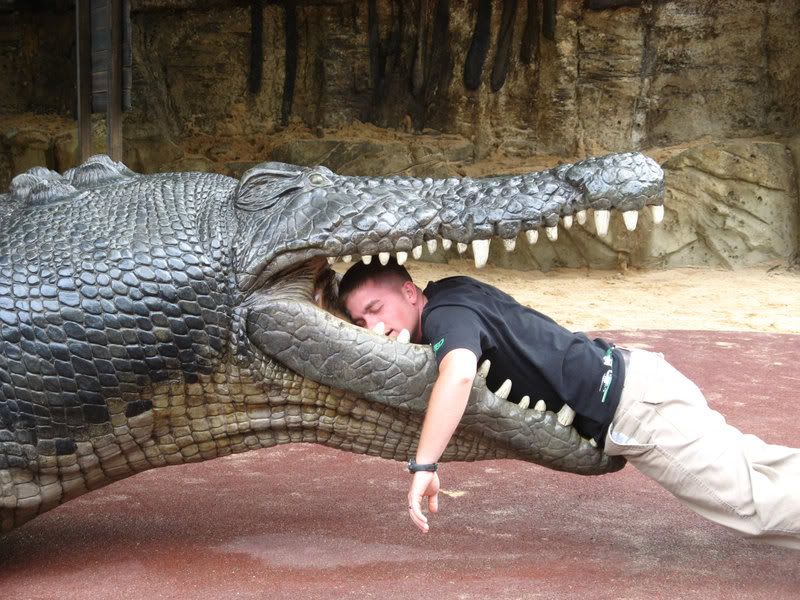 Just kidding. This was a very popular photo spot and everytime we walked past it, someone was doing some different pose: wrestling the crocodile, riding the crocodile, etc.
After feeding the kangaroos, we walked around some more (we did a lot of walking...it hurt! But I think it was good for us) and saw elephants and tigers. They were okay...but I was excited to get to the koalas! You know the question, "If you were an animal, which would you be?" Well, I know my answer now. I would want to be a koala! They are so stinkin' lazy! I would especially like to be a koala in the zoo, because those koalas don't even have to climb down the tree when they're out of leaves and climb up a new one. The zookeepers just bring new branches right to them. I read that the koalas have a good excuse to be lazy--the leaves that they eat are highly toxic and they use almost all of their energy to digest the leaves. I also learned that their brains are the size of walnuts and that they just rattle around in their cute little heads. At one part of the zoo, you could pat a koala's bottom while it was sitting in a tree, and I did that. But, at the Wildlife Studio, you could actually hold the koala! So I did that too! I'd say that holding a koala was definitely a highlight of my life. And David messed up the camera and recorded this wonderful moment with a lousy picture.
Fortunately, the zoo is out to make a buck and they just don't let you hold the koala and take your own picture. You have to pay the $15 or so to let them take a picture for you too. The koala absolutely loved me. It clung to me like I was its mother, or like I was its eucalyptus tree. I loved him too. I am putting "pet Koala" at the very top of my Christmas list this year.
We walked around a little more and saw some dingoes, lazy lazy wombats (except for the one that was being walked on a leash!), more birds, more crocodiles, some echidnas (echindae?), and a Tasmanian Devil which we tried to get a picture of, but the thing never stood still!
We decided to eat an early dinner at the zoo because our train wouldn't put us back in Gold Coast until after 8:30 p.m. and the zoo closed at 4. Most of the food court was already closed or sold out, but David had a wrap and some chicken strips and I had a meat pie. If I lived in Australia, I would definitely eat meat pies all the time!
The train back was long. I got a lot of knitting done. I wish I lived somewhere where I could take the train everywhere I needed to go. I'd get to knit or read a lot! We made it back to Nerang Station and then back to our hotel around 9--a 14 hour day!