Look at a map. See if you can find Okinawa. You might think it's just a little crumb or speck of dust south of Japan. That's where I live. Now take your finger straight down and see Australia? Looks close, doesn't it? Of course, you'll have to go across to the east coast of Australia so you don't just end up in the desert or the jungle or the "bush" or whatever it is they have there int he middle of Australia. But for some reason, you have to go west before you can go east. And so, the first leg of our journey to Australia wasn't even in the right direction. We went to Shanghai China. Whoopee! Now I've been to China! We had big plans to take pictures of the pictures of China as we walked through the airport, but then we checked in, ate, etc. and so our China vacation pictures never materialized.
We were too early to check in, so we decided to get some food. Chinese food, of course!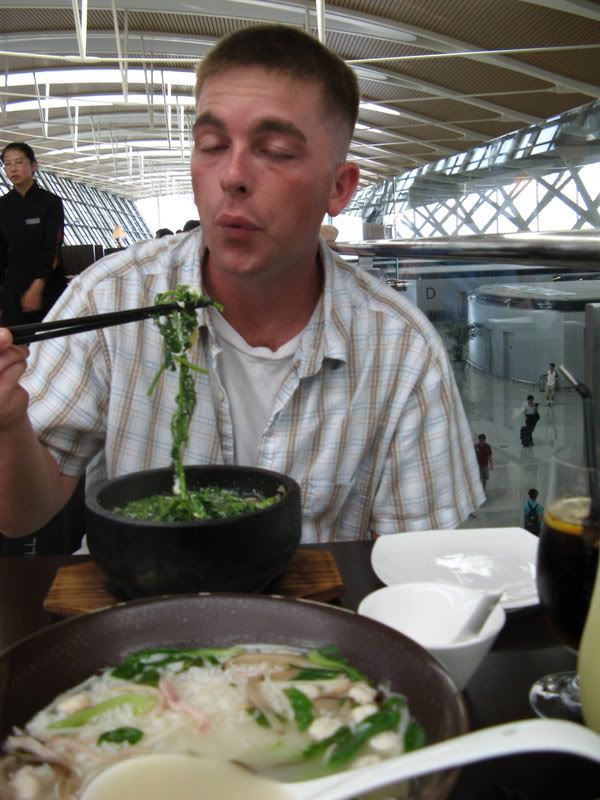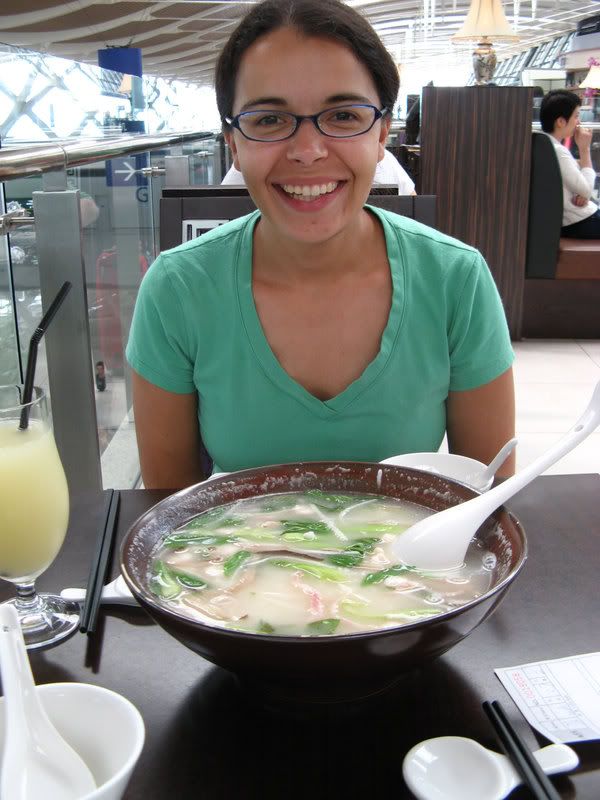 So here's a tip for anyone who is going to go to Australia. You actually need a Tourist Visa to go there. Now I've been a lot of places. And David's been a lot of places. Between us, we've been to at least 20 countries...and neither of us have ever needed a Tourist Visa. So imagine our surprise when the lady at the check-in counter told us we needed them to go to Australia. Like that's something everybody knows. You'd think a little pop-up window would come up when you're ordering your tickets or something. Anyway, for just about double the price, you can apply for an instant "e-Visa" right there at the ticket counter. How convenient.
Soon after, we were on our way to our gate for the 10 hour flight to Sydney. We got pretty lucky on all of our flights...we never got stuck in the middle set of 4 or 5 seats. On the way to Sydney, we were in a set of 2 seats, David had the window and I had the aisle. During take-off, I sat with my face in the barf bag. I just managed to make it until the seatbelt sign went off so I could rush to the "lavatory" and puke with dignity, rather than having the Chinese people across the aisle staring at me while I did it. After that, I was fine, except my teeth felt gross. We both went to sleep. Unfortunately, I slept right through the hot chocolate. We arrived in Sydney in the morning, and saw the Opera House on the way in! We didn't leave the airport at all though, because we had another plane to catch to Gold Coast. Have to go south to go north too, I guess.