It was the best of times. It was the worst of times.
July 6--Marathon day!
We went downstairs early to catch the shuttle to the marathon start area. Imagine our surprise when there was an actual city bus sitting outside our hotel to pick us--and 4 other runners from our hotel--up! It was cold and dark! We both had our long sleeves on, with plans to run with them until we warmed up and then either ditch or tie around our waists. We went to check our bag-dry shirts, camera- at "left luggage" and decided that it was already warming up, so we put our long sleeves in the bag for later instead of starting the run with them on. The Gold Coast Marathon was a big event-- even though there were only a few thousand runners in the marathon, there was also a half marathon, 10k, 7.5 k walk and some "junior dash" races. There were 20,000+ participants in all. The half marathon was set to begin about 30 minutes before the marathon, so when we saw the half marathon people start heading to the start, we took advantage of the less crowded bathrooms.
The bathrooms were quite possibly my favorite part of the marathon. (What does that tell you about the rest of my marathon experience?) But seriously...the bathrooms were brilliant! They were extra-porta-potties... called "Lotsa Loos" and they were big trucks parked in the expo area. You wait in line outside the truck and go up some stairs to get in. Inside the truck/trailer there are a whole bunch of stalls with real toilets that really flush! It was fantastic! I don't know how much the technology of porta-potties in the states has advanced since my last stateside marathon, but let me tell you...lots of runners like to, er, empty their stomachs (bowels?) before a run and it is no fun to go in and pee on top of some other runner's business in one of those old fashioned porta potties. And it's a little embarrassing to leave your business there for the next person. So the flushing toilets at the marathon were great! You get to flush them with a foot pedal too, so that was fun. And at the end of the day, somebody just drove them away! David wasn't as impressed as I was, but he sure did spend a lot of time in there admiring the loos.
When he finally came out, we headed to the starting area and it turned out that everyone was on the wrong side of the starting line, so we all had to move the other direction! We saw a guy with these 2 giant hot pink exercise balls, leg warmers, a sweat band and a hot pink Richard Simmons outfit. Marathons always bring out the most interesting people. We said goodbye to each other at the starting area, as we had already agreed to do, and I found what I thought was a good place to start.
I fell into a good pace with the 4:15 pace group (yellow balloons) but they fell back at a water stop. I decided that I felt so good and the run was so pretty (there was even a rainbow!) that I picked up my pace quite a bit. I started to regret that decision about 10 or 12 miles later (I think... the whole kilometers to miles thing will never make sense to me, and I claim "too much mental math" is partly to blame for my marathon time.
Maybe around 15 km (?) I saw David for the 1st time as the course looped back on itself. We got to wave and say hello, and David looked like he was really running strong. I admit, I was a little bit surprised at how well he was doing! But proud nonetheless.
(I don't know where on the course this photo was taken, but David looks this good in all of his marathon photos. I hate him!)
Just after the halfway mark, my left foot started to really hurt. I pulled over to adjust my shoe lace in an attempt to make it better. (The day after the Okinawa marathon in Feb. I noticed that the outer/bottom of my left foot was in a lot of pain, but I didn't want to call the doctor because I would've felt stupid telling the doctor "I just ran 26.2 miles and my foot hurts" duh. It hurt on and off during training for Gold Coast, but by that time, I knew that a prescription for "rest" or worse would really interfere with my Australia trip). I also went ahead and turned off my lousy Garmin at this time because it kept beeping in and out of service and because it only had me at 11.4 miles when I knew perfectly well that 21 km=13.1.
Anyway, the shoelace fixing didn't help much at all and just about every step hurt. Well, only when I put full pressure on my left foot (so whenever it hit the ground) and anytime it wasn't flat (so whenever it came off the ground). Excuses, excuses, I know.
The hardest part of the marathon was the end (obviously) but not just because we had run 30 K (by that point, I had given up on converting to miles) and had a little more than 12 to go, but because right around that time, we had to run PAST the start/finish area. It was completely demoralizing! People were finishing the half marathon and the marathon and I Let me tell you, never, not in any card game or on a test I didn't study for or any other run, have I ever been so tempted to cheat. I was having fantasies about running to the opposite side of the road for a water stop or to "tie my shoe" and accidentally get swept away with the crowd of runners headed the direction of the finish line. I didn't though, and good thing, because I would've missed the 35 K chip checkpoint, and the chance to see David (still looking strong) when he was at the 32 or 33 K and I was at the maybe 37 or 38? I had done a lot of walking by that time, seen the yellow balloons go past me, and had gone through lots of self-negotiation. "I'll run the whole last 3 K if I can walk for 4 more minutes now" etc. It was not pretty. And apparently, while running, neither am I:
My story just gets sadder and sadder...sometime around 35 or 36 K, I noticed that I couldn't get a complete breath in either, which freaked me out and I'm sure made it worse.
Also, there was no food on the course! Who in the world throws a party for 20,000 people and doesn't bring any food? A third of a banana or an orange slice is like a little piece of Nirvana at the 18 or 20 mile mark!
I don't know many of David's first marathon thoughts, except that he made a few friends along the way, most notably an Aussie that ran several miles with him. He also saw a Japanese couple that was stopping and taking pictures of each other along the run. He said he didn't walk at all until 18 miles (how in the world did he know where 18 miles was??) and that he was expecting a banana too!
When we registered for the marathon, you get to put a nickname that you want on your bib #. That was a lot of fun... everyone knew your name and it felt good for people to cheer for you, "Good on ya, Becca" and "Doing Well, Becca" and "Come on, Becca, just a wee bit to go" (by the way, that person was lying). There was also a little girl on her dad's shoulders who said, "Look, Dad! Look at the little girl running!" when I went by.
Anyway, I finished in 4:45... my worst time ever. (Maybe I should've eaten the carbs instead of the Nutella after all *wink*)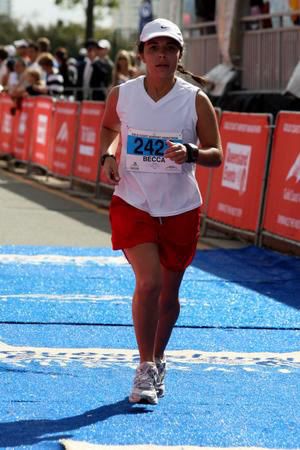 I got my medal, t-shirt, orange slice and banana after that, and went out to cheer David in.
He finished in 5:06...his best time ever. (had to edit that...I had accidentally written in his clock time instead of his chip time!)
We got our warm clothes & stretched in the sunshine for a while before trying to find the bus back to our hotel.