The first kink in my plan occurred right away. We hopped in a cab to Nerang station, where I planned to catch a train to Brisbane City and go for a self-guided walking tour as outlined in my Australia travel book. Our cab driver was not a good salesman for Brisbane. He said it's not actually worth a visit and what we should do instead is go to the Footy. The wha??? Anyway, we decided to just stick with the plan (I think David was afraid to suggest that we stray from it) and headed for the train station. Even though, secretly, I was interested in this mysterious footy. When we got to Nerang station, it turned out that there was some sort of accident and the trains to and from Brisbane weren't running! It was a sign! We ran back down from the platform and caught our cabbie. He dropped us off at Skilled Park so we could buy tickets to our first Rugby game. We had lots of time before the game, so he suggested that we walk to a mall (where David bought a fleece jacket at...TARGET!!!) and then to a pub called The Dog & Parrot after the mall closed (at 5:30 on a Friday night...weird). He told us that The Dog & Parrot runs a free shuttle bus (free!) to the stadium on game nights. We asked for directions from some smoothie-makers at the mall and they thought we were nuts to walk there. It was "really far"...about 15 minutes walk. They obviously were not going to run the marathon on Sunday.
Anyway, when we got there, there were tons of fans there eating before the game! It was so much fun... we ordered food--I had a delicious thing called Guinness Pie and David had Chicken Parmigiana served ON chips (that's what we call french fries now) and had the same kind of beer the real Australian guy in line ahead of us had. It was Toohey's New. There's also a Toohey's Old. After dinner, we hopped on the shuttle and rode for free (!!) to the footy. That's what everyone calls it. The first thing I decided to love about Australia was the way they give everything a cute little nickname like "Brekky" for breakfast and "Pokies" for poker machines and "Harry Potty" for Harry Potter and of course, "Footy" for football which is rugby.
(pardon the blurry picture...maybe David had a few extra pints of Toohey's New when I wasn't looking)
I had fully intended to root for the home team, the Gold Coast Titans and I wanted a Titans scarf (it was cold!), but when we saw our seats in a sea of maroon and white, we opted to just cheer for the Manly Sea Eagles...these people are obviously serious about their footy (we saw a few people with Sea Eagles gear on our plane from Sydney) and we didn't want to make any enemies on our first night.
Okay, footy is weird. Only a few people on the field wear helmets (and one was pink) and I couldn't actually figure out any of the rules. It was kind of like football in that apparently they are allowed a certain number of "downs" (but that number seemed different each time) and people try to tackle each other. But after the ball carrier goes down, they just get up, toss the ball to someone else and keep right on going. They don't huddle back up and get into some formation and re-snap the ball and all that. It was actually kind of nice not to have to sit through all that. Good that we didn't root root root for the home team after all, because they lost. Apparently almost half of their team is injured and Manly is tied for 1st place.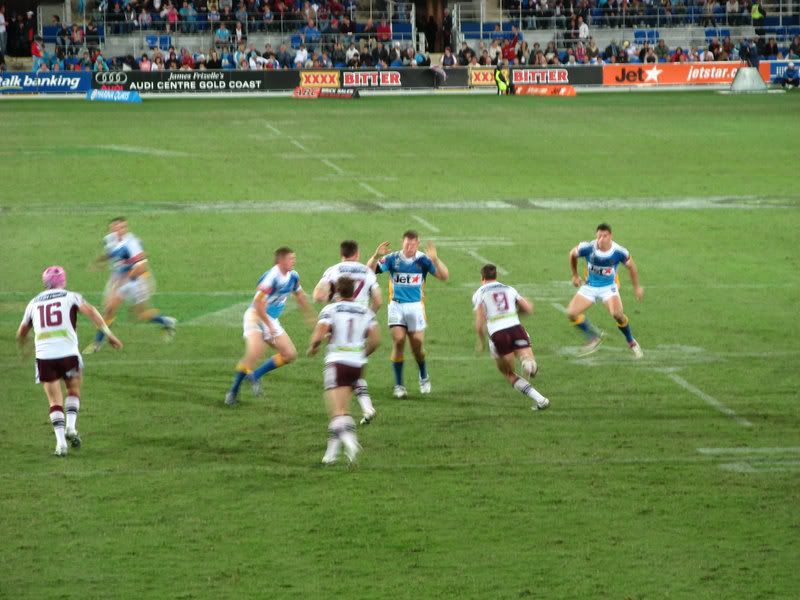 There's a train station right outside of the stadium & the train runs for free after the game! Too bad the cabs don't run for free.
Once back at Nerang, we waited forever for a cab. Lots of friendly Aussies talked to us and asked us where we were from. I said "near Chicago" and a guy shouted out "Go The Bulls! Go The Bulls!"
So, I'm really glad that fate stepped in and sent us to the footy instead of to Brisbane. 50% of our survey participants (me) listed "Dog & Parrot and Our First Footy" as their favorite Australia night activity. To find out what David's favorite was, you'll have to keep reading!