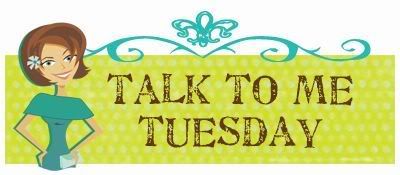 As this is one of my favorite entries (this one was a close second!) I decided to link it up with Tip Junkie's Talk to Me Tuesdays! Read other blogger's favorite posts here!
On the bus on my way to Mount Fuji, I thought I would title this blog entry "Fuji-licious". But then, I started the climb, and the words that stuck with me the entire way up were, "Never, never, NEVER again will I ever do this, ever in my whole entire life"! Anyone who says "never say never" obviously hasn't climbed Mt. Fuji... and if you haven't, take my advice, NEVER do it!
It was not fun. It was not easy. It was an experience, and I'm glad I can always say that I did it. Although, next time I want to do something just so I can say I did it, I'll just say I did it. It was miserable, exhausting, and for the majority of the time, downright frightening. I wouldn't wish it on my worst enemy.
If you're ever considering doing something that requires you to meet up for a 2.5 hour bus ride at 2:30 a.m., reconsider. We took the bus from our hotel to Mount Fuji station 5 (this is where "everybody" begins the climb) and arrived there about 5 a.m. We bought our Mt. Fuji walking stick (just one... it ended up costing about 4000 Yen --a little under $40 bucks-- by the time the trip was over, plus most of the time I didn't want to carry it anyway) and started what I now refer to the worst 12 hours and 13 minutes of my life at 5:15.
(0500-at station 5)
It started out like a walk in the park, literally...there were trees, gravel paths; it was lovely, really lovely. I made the mistake of thinking "this isn't bad at all" and continuing on.
(0523-8 minutes into our trek)
Before we got our first "stamp" which was really a brand on our walking stick, the path started getting steeper. We made it to station 7 for the first brand by about 6:30 or maybe earlier. There were quite a few station 7s--I guess they were like station 7, station 7 and a quarter, station 7 and a half, station 7 and 3 quarters, station 7 and 7 eighths, etc. before actually reaching station 8. Station 8 was a big deal to reach... we were told to turn around if we hadn't reached Station 8 by 1:30. We got there by 8 a.m. or so and figured we were doing awesome. Little did we know that there were 4 more station 8s and the terrain leading to the one we needed to be focused on was super rocky.
(0630-our first "stamp")
(0730-already at 3,000 meters...only a little more than 7 hundred to go. Let me tell you, 700 meters up a mountain cannot be compared to "not even 2 laps around an outdoor track" no matter how hard you want to believe it. 3000 meters is almost 2 miles.)
(0750-our 2nd stamp)
I hated every moment of the climb, especially the rocky parts, which was the majority of it. I practically crawled up the whole thing because I was so afraid not to hold onto the rocks. Several times, I tried to envision what I would look like if I slipped and scraped my face on the huge rocks I was climbing up. I moved pretty quickly on the steep uphills, but lost a whole lot of time on those rocks... I try to be very deliberate about the placement of my feet, especially when I'm on the side of a 12,000 foot high mountain with rocky terrain. I was definitely more exhausted mentally than physically. I kept on saying I was a nervous wreck (I get that from my grandma, I guess). We don't have any pictures from that portion of the journey because I was basically too terrified to let go of the mountain long enough to get the camera out of David's bag! At one point, we had to travel across a ledge along the side of one of the stations and I nearly had a nervous breakdown... I do NOT like heights (so why on earth would I desire to climb this mountain????) I had tears in my eyes but realized that if I turned around I wouldn't be able to go down "the easy way"...more on that in a few minutes. So I just held onto anything I could and inched my way across the ledge.
(0913-by this time, we were above the clouds... I noted that I usually only like to be above clouds when I am in an airplane---with my safety belt on!)
As we got closer to the top, we took more and more little stop and rest breaks. The terrain kept getting worse and the hill kept getting steeper, and somehow even though I knew that with every single step I was getting closer to the top, it kept seeming further and further away! The air was getting thinner and David's backpack (he carried the gear for both of us!) I'm sure kept feeling heavier and heavier.
(1205-the view from the summit)
(1215-dirty hands, stamped stick, stressed-out climber!)
It ended up taking us 6 hours and 50 minutes to get to the summit. And I was okay with that (I had lost my competitive edge hours ago) Once we got up there, we sat and waited a while for friends we met on the tour, Cynthia and Pinky, to meet up with us. Then we all had a photo shoot/picnic/nap for about 2 hours before heading back down. That was, by far, the most enjoyable part of the day!
There's a huge crater up there that everyone was raving about. I stood near it long enough for a photo, but had visions of myself being knocked over by a gust of wind and tumbling down.
(1250-David and I at the crater...the photo does not do it justice!)
Coming down the mountain was absolutely horrifying. I really wonder why on earth I decided to climb Mount Fuji! I know that I'm afraid of heights (or moreso of the idea of falling from them).
(1425-the people behind us as we began our descent)
Anyway, I was terrified because there were no fences, lots of slippery rock, and steep declines. I was traveling, oh...about 2 feet per hour when David decided it would be in our best interest to hold my hand all the way down. We wonder if we're the only couple to hold hands the entire way down the mountain. We also had to switch sides on every switchback so he'd be on the outside. If we hadn't, I still might be slowly inching my way down! We had so many rocks in our shoes it was nearly unbearable.
(1430-still headed down the mountain with Cynthia and Pinky)
And, to prove that mountain climbing and high altitudes make you absolutely delirious, when we were heading back to station 5, we had to go back UPhill...and were glad about it!
(1713-so close to the finish!)
(1728-We did it...and we'll NEVER do it again!)
I have never been more dirty in my entire life. I had a dirt moustache, dirty spots on my cheeks, dark legs, grey hair, the lines in my palms were completely black, and when I took off my socks, there was dirt caked around my toenails. Since I think I've already surpassed the "12" for this "12 of 12", I'll go ahead and add 2 more pictures...one of my dirty face after the climb, and one of my dirty washcloth after my shower (after midnight since we had to wait 2 hours after the bus was supposed to leave since some ladies were too slow but we all --well, almost all of us-- felt too bad to leave them)
(1745-covered in dirt!)
(0030- can you tell which washcloth I used?)
Gosh, this all sounds so incredibly negative, doesn't it? I just wanted to be brutally honest, because I know in a few days my calves will no longer be sore and I'll gaze lovingly at my Mt. Fuji walking stick and think "gee, that was really great". I want to be able to look back at this blog entry and think "we EARNED that walking stick!" Really, it was horrible, it was a long day and definitely one of the most difficult things (especially mentally!) that I've ever done. But it was beautiful and when I finished I really did feel like I accomplished something big. I'm sure I'll be looking back at this experience in the (distant?) future and feel proud and really glad that I didn't miss this opportunity!
(Fuji from the plane... yeah, we climbed that!)