A Saturday 12 of 12. This really proves how lazy I am! You might find more exciting 12 of 12s
here
.
My day started around 0600, when I was getting ready for my Saturday run. 7 miles this week.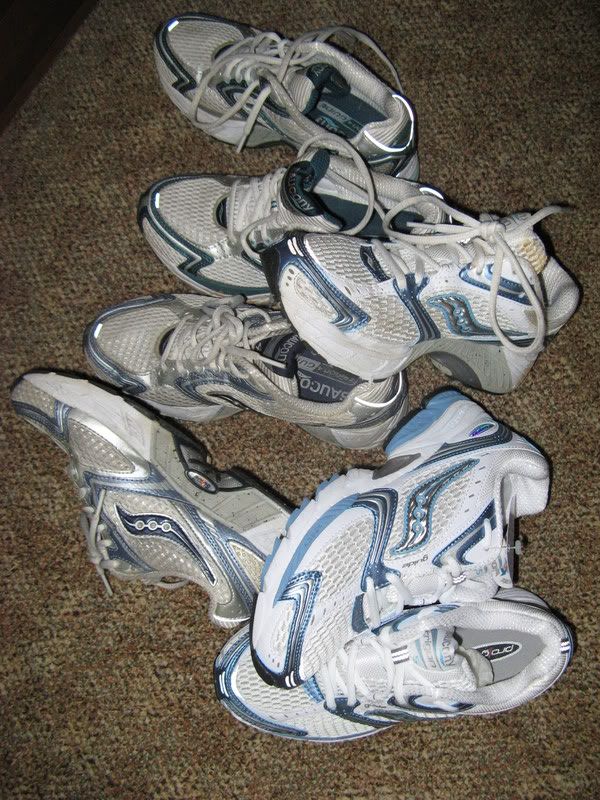 A little wrench in the plan is shown in this picture. Do you see what's wrong?
An odd number of running shoes- 2 pairs of "retired" shoes, 1 pair of brand new shoes, and only ONE single currently-used running shoe. I found the other one in my laundry basket.
David went out for a hair cut and picked up the mail around 10:00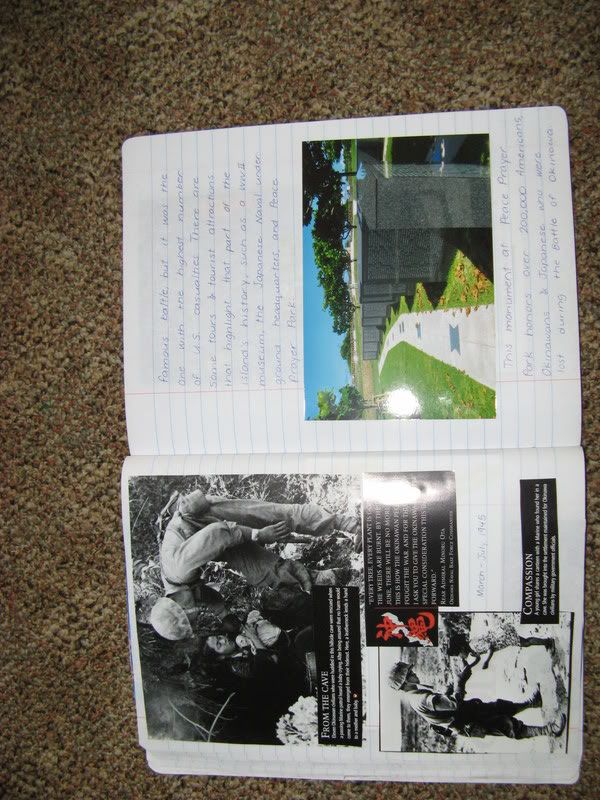 I got some tax paperwork from my mom as well as an envelope from my old high school track/cross country coach. They sent me this notebook, a "traveling journal" from a 6th grader they know. The notebook had been in Indiana, California, Arizona and Illinois. I had (too much?) fun adding pictures, brochures and my own journal entry.
David went out to pick up the dry cleaning and picked up pizza for lunch. The pizza was greasy & pretty disgusting, but I always love the cheesy breadsticks.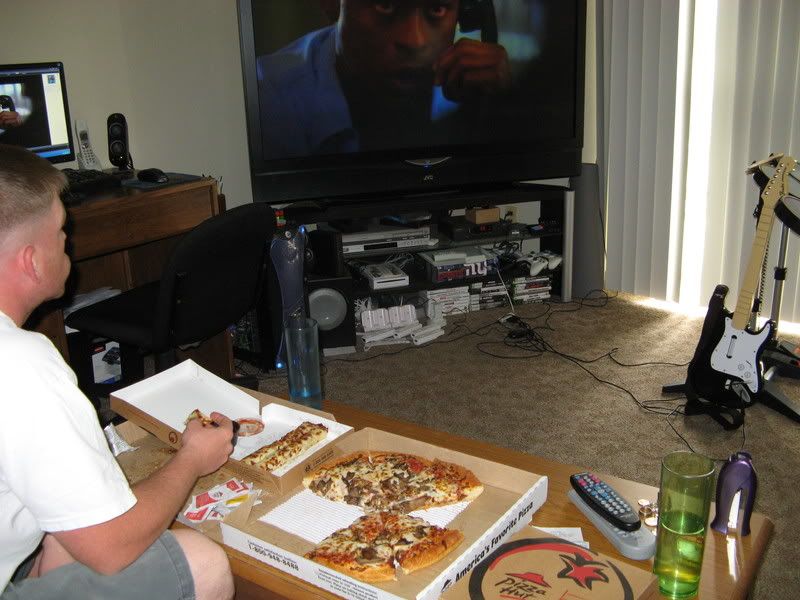 I finished up my journal entry and decided to send it on to my friend in Alaska. Her name starts with R too. This was probably around noon.
Since I was sending David to the post office anyway (other than the run, I didn't leave the house on Saturday!) I decided to go ahead and have him mail off this stuff too. A couple birthday cards (late), taxes, a letter and a transcript request.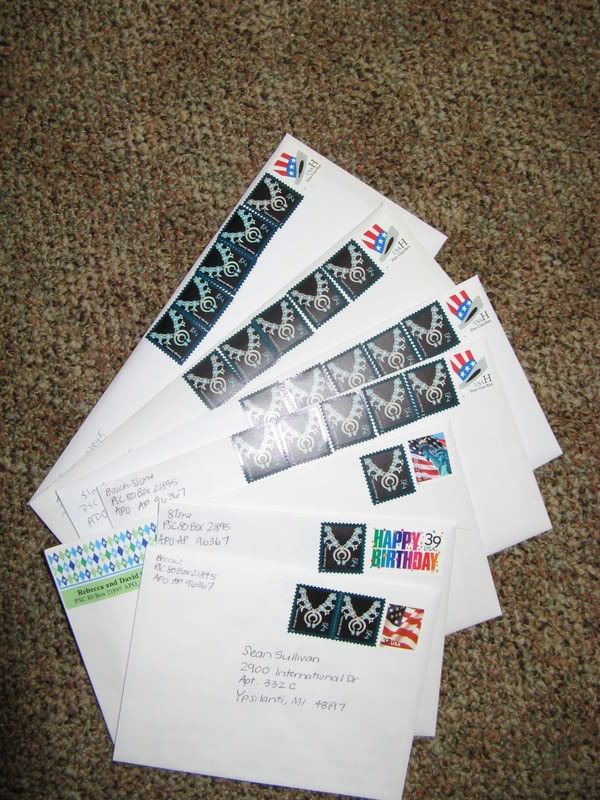 I still have a lot of 32 cent stamps.
Even though I had no plans to go anywhere, I decided it was about time to take a shower. The picture is bad, but the clock says 1:53. I probably managed to delay the shower another 2 or 3 minutes after that.
I decided to tend to my flowers around 2:30. Aren't they beautiful?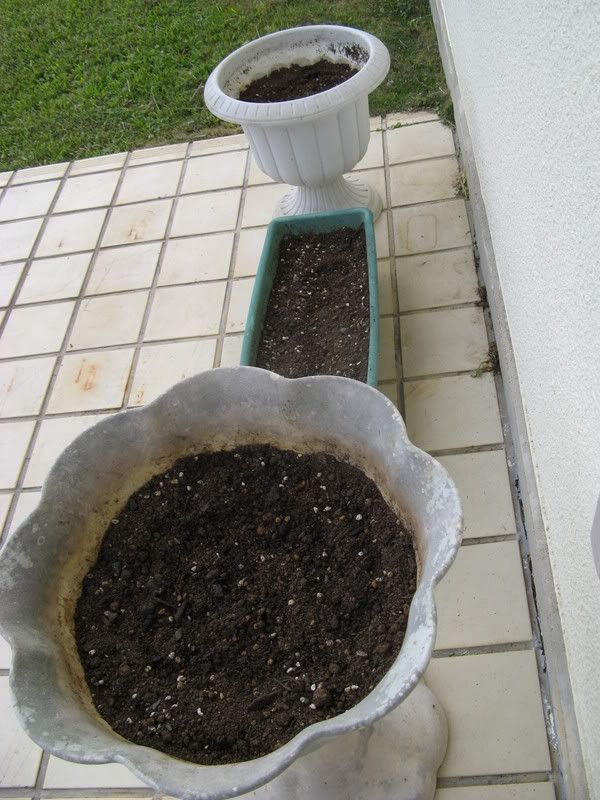 I'm impatiently waiting for them to bloom. I planted them on Friday. Aren't they going to be beautiful?
I love Zinnias, and the Asters look like my favorite flower- spider chrysanthemums.
This picture could probably have been taken at 0800, 1030, 1200, 1400, 1530, 1600, 1615 or 1900.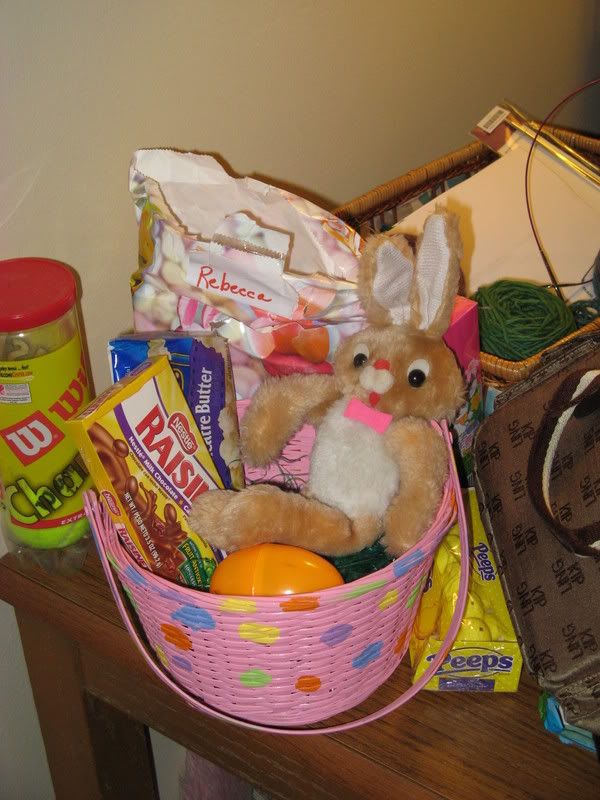 I raided my Easter candy several times. Oh look, there's Brown Bunny too! He was hiding in the bag all along.
I started hemming some pants (6 pairs!) I will be hemming those for a while. I like to get them all zig-zag stitched and pressed so that I can just hem while I watch tv.
I like to hem my pants with hot pink thread. Just for fun.
But, I get bored hemming pants, so I stopped before the pressing step and decided to work on knitting some socks instead. Bare feet=cold feet. Sure, I could go find a pair of matching socks in my sock drawer, but what's the fun in that?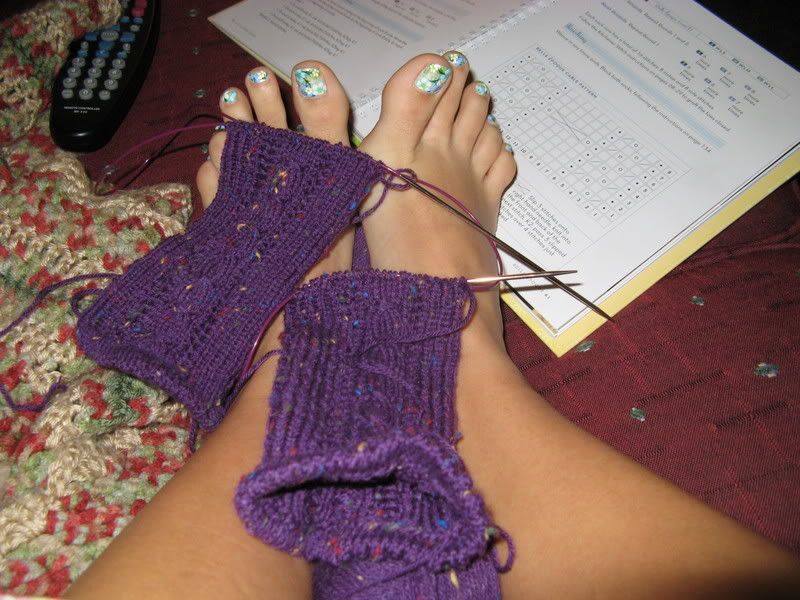 And, to close out the evening, I decided to watch one of the Harry Potter movies while knitting. It was over by about 2130 and I was in bed shortly thereafter!